What is an LED Video Wall?
Interested in Renting or Purchasing an LED Video Wall?
First, a little LED history!
You've almost certainly seen screen walls in many locations, ranging from museums to TV studios to special events. For those of us who live in major cities, they're a part of our daily lives, put in place to elicit excitement and wonder for when we gaze upon them. Screen walls themselves have been around since the late 1970s, typically as crude multi-monitor set ups, used as an alternative to projections. These monitor walls gained popularity throughout the '80s, often used for trade shows and point of sale installations. In the years that followed, CRT (cathode ray tubes) and LCD (liquid crystal display) screens would dominate the videowall market for several decades.
In the background, LED technology was being built upon. LEDs themselves – light emitting diodes, were first made in the 1960s and due to being limited by the compounds in their construction were typically insanely expensive and only came in red, making them unusable for color video. One of the first consumer products which utilized LED technology was a pocket calculator. Released in 1971 and priced at $400 appeared it was just a tad on the pricey side for a device not yet designed to compute algebra! One year later, the pulsar LED wristwatch debuted with a similarly stunning price of $2100. In the decade that followed, developments in manufacturing techniques led to a price of red to LEDs dropping to only 5 cents apiece, whilst both the first yellow and violet LEDs would be created.
For a long time, LED displays were of dubious quality, as they continued to compromise on the type of LED used. To achieve reasonable colour and light output more green LEDs were required, resulting in somewhat peculiar pixel configurations, however in 1993, a breakthrough occurred. The manufacturing process which had led to blue LEDs had been enhanced. A yellow phosphor coating allowed them to produce white light. LEDs went from traffic and car light indicators to viable light sources. The lack of filaments allow LEDs to be more energy-efficient than incandescent lights. Additionally, as they do not burn out or run hot, they claimed (and still claim) reliability, longevity and advantages over incandescent lights. They also proved to have more vibrancy over LCDs due to screens being unable to produce their own light, requiring backlights behind the glass screen to illuminate the display. LCD screens also suffered when tiled together – the borders between a screen and its frame are visible between individual panels. An evenly illuminated image required stable operating conditions meaning that LCD tiles and the lighting system needed independent air conditioning systems. Again, this was not the case for LED screens, which did not suffer from this problem.
One of the most well-known video walls of all time, is Time Square's JumboTron. The enormous Sony-made screen was originally CRT based, but the final model was made from LEDs, seen in an almost endless array of sizes and shapes, both flat and curved into three dimensions, stacked to create composite images. These images have no bezels and are delivered seamlessly across panels. Indeed, even with smaller video walls, these images look great from any angle meaning that when used in a lecture or sales event, every attendee is given a front-row seat experience. This combined with the fact that standard definition (SD) has been all but abandoned in favor of high definition (HD), which LED walls support meant that they have risen in popularity.

For a long time, LED displays held the image of a gaudy advertising medium but the late 00's saw them shake this off. A prime example of this is the lobby display in Comcast's Philadelphia headquarters. The 25.4 (7.7) m high display was installed in 2008 and is 83.3 (25.4 m) wide. Using 10 million LEDs to cover the 2000 sq ft (190 m2) of display using 6,771 Barco NX-4 4 mm pitch panels runs for eighteen hours each day, typically displaying imaginative animated sequences, images and views of Philadelphia.

Indeed, as costs have come down, video walls have proved to be a versatile medium, capable of being used to provide incredible benefit. Studies reveal that sixty-five percent of people consider themselves visual learners, so it makes sense that event planners would take advantage of the visual power LED walls provide. There are a number of things to consider when installing a wall, with the primary concern being based on the purpose it is used for.
LED Video Wall Design and Construction
The screens are usually measured in pixel pitch (or sometimes dot pitch) – the measurement from the centre of one LED/cluster to the centre of the next LED/cluster. Pixel pitch correlates with resolution and determines how clear images will appear on the LED wall panel. Contemporary scoreboard-style displays typically range between 6mm to 10 mm pixel pitch. From a distance, these appear to look great, though at close range pixels can be seen by the naked eye. Recent modules come in 1.2, 1.6, 1.9 and 2.5 mm pixel pitch. As a rule of thumb, the smaller the pitch, the closer the viewer can stand to the screen before seeing the pixels. This will mean that when installing a video wall, its good to consider its purpose. If the screen is high up and has to be reviewed at a distance, a larger pixel pitch may work fine. A screen by a store entrance which customers would walk in close-proximity to would call for a smaller pixel pitch. Striking a balance can have its benefits – the 100-inch video wall located in the main lobby of the Lafayette Library and Learning Centre has enough size for the distant passerby to view photos while providing the nearby observer sufficient resolution to read about upcoming events.
There are also different video walls designed for outdoor and indoor use. Outdoor LED walls are weatherproofed and generally have a generally higher pixel pitch to compete with the sun's rays. This obviously affects image quality, with the brightness affecting contrast, or what are sometimes called black levels – the level of brightness at the darkest part of a visual image. Some colours can be washed out. Indoor screens aren't usually weatherproofed but as previously mentioned, usually have a lower pixel pitch for a sharper image quality. Moving an outdoor wall indoors if it wasn't designed for the purpose may result in a less than optimal viewing experience, so a versatile screen that works inside and outside might need to be considered.
Some LED Video Wall uses and applications
LED video walls are scalable to a variety of shapes and sizes, so choosing the right size wall for an event is important, particularly as this will affect the price of the wall. Smaller, more intimate events may call for 7' x 12' screens to avoid the displays being overbearing to guests. A larger affair, such as a general session in a large ballroom or even concert may call for a 18' x 25' backdrop. Flexible substrates have allowed the introduction of curved displays and LED "floors" have become common. Scenic elements in the theatre have utilized these, such as in the "Spiderman – The Musical" on Broadway, which despite having a complicated gestation, scenic elements originally designed to be projected were replaced with LED. In 2012, The Summer Olympic Games held in London had one of the most imaginative uses of LED. Each seat had a "tablet" associated with it. These tablets carried nine LEDs which became a pixel within a giant display the size of the entire stadium the event was held in. The concept however was simple, using a standard LED video display driving system to drive widely spaced pixels. Despite its simplicity, it took Tait Technologies fourteen weeks to engineer, build and install 70,000 tablets and their associated 370km of cabling.A year after the Olympics, the record for the largest video wall would be broken by one developed by Panasonic for use at the Charlotte Motor Speedway motorsport track. Despite measuring 200 by 80 feet (61 by 24 m), its record has been broken several times, with the current largest video wall being found in the Dubai Aquarium and Underwater Zoo at Dubai Mall. Measuring 7.639 ft2 5 in2 (706.69 m2) it allowed LG to set two other records for the largest OLED screen and the highest resolution video wall.
Casinos, retail locations, museums and airports have all employed video walls, often looking for the most artistic way to implement the screens. In Tampa International Airport several seemingly-physics-defying ribbon video displays made with Amflex LED screens can be seen, bringing Spanish artist Daniel Canogar's visions to life. A long ribbon LED video screen wraps itself along the ceiling architecture in the airport's F terminal. Natural plant-like shapes, generated in real time by a program that controls the life cycles of the plants are pictured on the screens. Meanwhile in Oakland International Airport's baggage claim area, patrons could observe the display at long distances. Similarly at McCarran International Airport's display serves as an advertising platform for the forty million passengers who pass through the airport annually.
Videowalls are even being used to provide congregations with visually impactful worship experiences. Modern worship environments utilize visual technology to communicate messages, news, worship, song lyrics and more. The adaptable nature of LED display panels allow church production teams to easily rearrange and program the displays to freshen up and modernize the look of the stage. Similarly, the Shiekh Zayed Grand Mosque in Abi Dhabi used LED displays to show each of the nine elaborate and ornate prayer clocks located within it. Essentially, as worship groups grow and utilize new technology, many are turning to video walls for their versatility and energy efficiency.
LED Video Walls in film and TV
Arguably one of the most surprising use of LED video walls is within the film and television industry. Over the last two decades, the use of green screen has become one of the most dominant tools in the artists of special effects artists world-wide. Studios as huge as Marvel Studios have showcased its use in their box office-dominating features whilst savvy home filmmakers and YouTubers have been able to enhance their videos with homemade VFX. Despite its popularity and the leaps and bounds in computer generated imagery, green screen still suffers from two big weaknesses. Firstly, CGI is still very time consuming and expensive to do to a high standard. Secondly green screen adds another level of difficulty for actors, who are already required to concentrate on their accents, line delivery and embodiment of characters as they are relied upon to imagine the surroundings their characters find themselves in, adding another level of difficulty when giving a believable performance. Video walls present solutions to these weaknesses in a new form of virtual production.
Perhaps most prominently, used in Disney Plus's hugely successful Star Wars 'The Mandalorian saw the likes of Jon Favreau's Golem Creations, together with Industrial Light and Magic, Epic Games and technology partners Fuse, Lux Machina, Profile Studios, NVIDIA and ARRI capture a significant amount of the shots in-camera using real-time games engine technology and LED screens to represent photo realistic digital landscapes and sets with creative flexibility. Over half of the first season of the show was shot using this revolutionary methodology, removing the requirement for any on-location filming. Actors performed in an immersive and massive 20' high by 270-degree semi-circular video wall and ceiling with a 75' – diameter performance space, where the practical set pieces were combined with digital extensions on the screens. Digital 3D environments created by ILM played back interactively on the walls, edited in real-time during the shoot, thereby allowing for pixel-accurate tracking and perspective-correct 3D imagery rendered at high resolution via systems powered by NVIDIA GPUs.
Stagecraft allowed 'The Mandalorian' to have movie-level production values on a TV show's budget, it is an undoubtedly costly and complex environment which require entire creative teams to work together to achieve the desired effect. However, the benefits provided by the screens are numerous. Reshoots were easier as time did not need to be spent on-location permits and insurances, whilst the fact that many effects and backgrounds could be rendered ahead of time and shot in-camera rather than composited in later saves a lot of time and money. The creative process is streamlined, with decisions capable of being made on the spot by the cast and crew as volume is reactive to their needs, not the other way.
Ultimately, the versatility and promise which LED walls provide mean that they will likely be around for a long time to come, regardless of the industry.
Just browsing? Have an event coming up? Not sure where to start? Our experienced team of LED Video Wall professionals are eager to hear from you!
Common LED Video Wall Sizes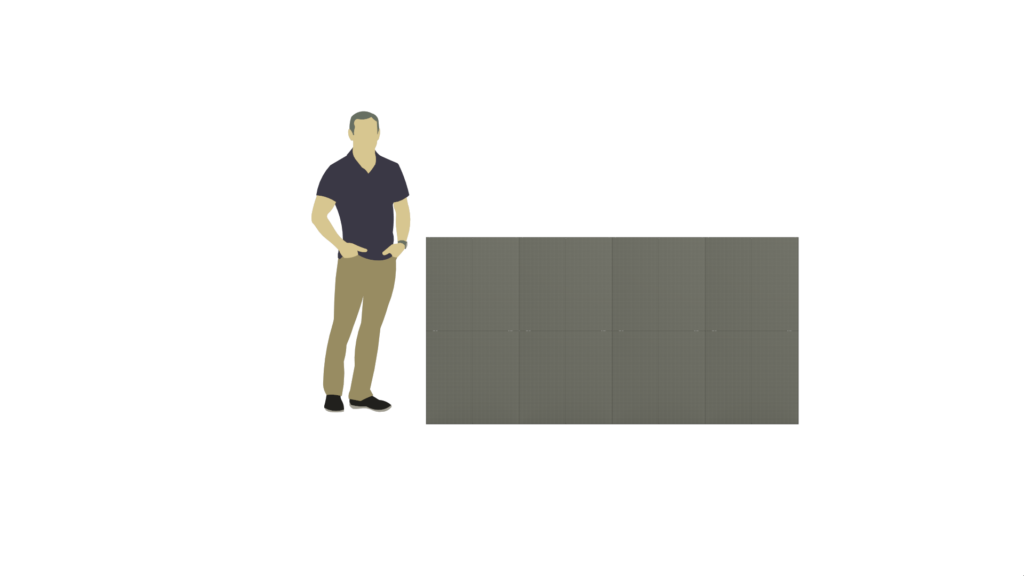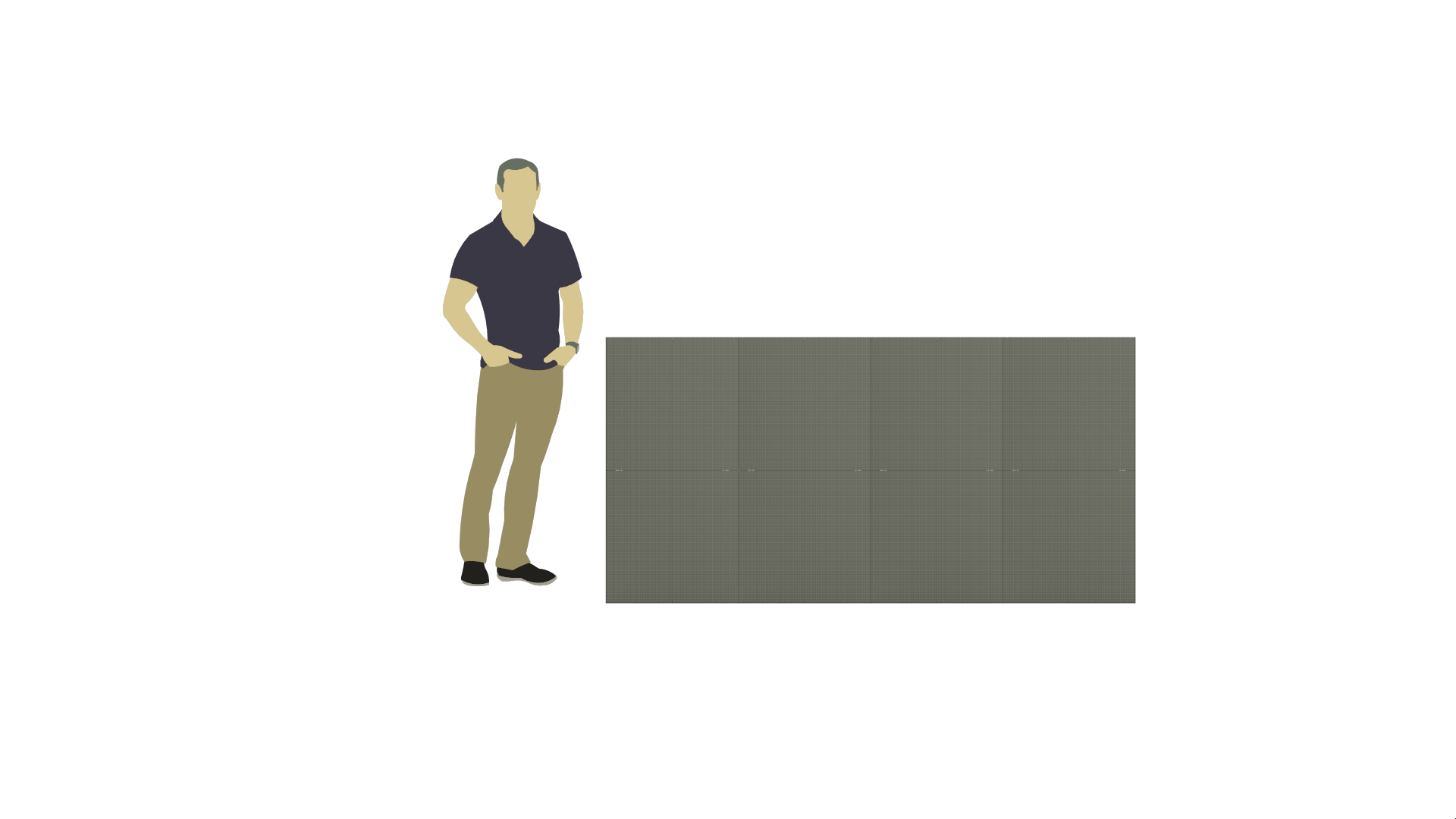 8'wide by 4' tall Video Screen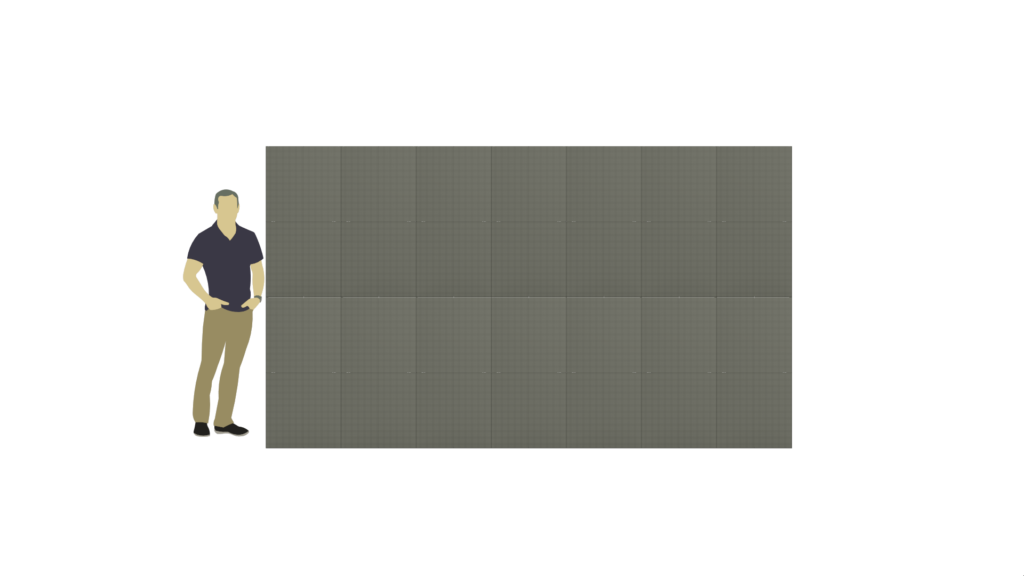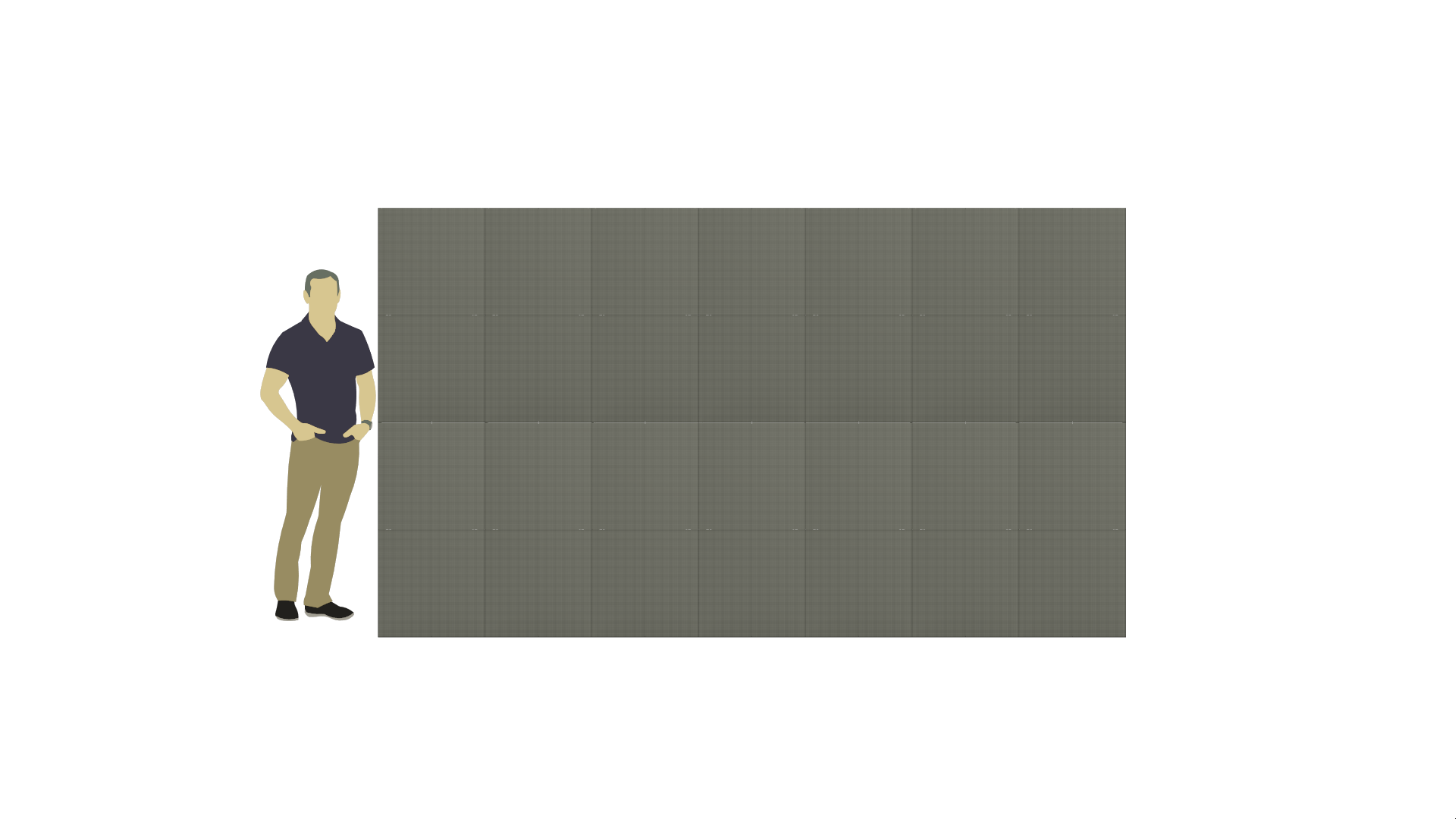 11.5'wide by 6.5' tall LED Screen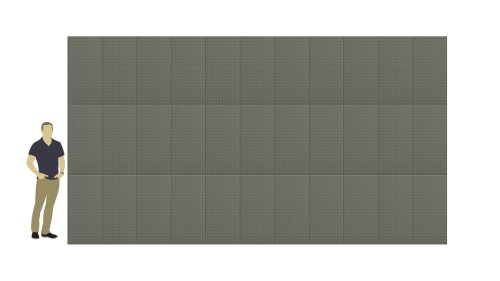 18'' wide by 10' tall LED Screen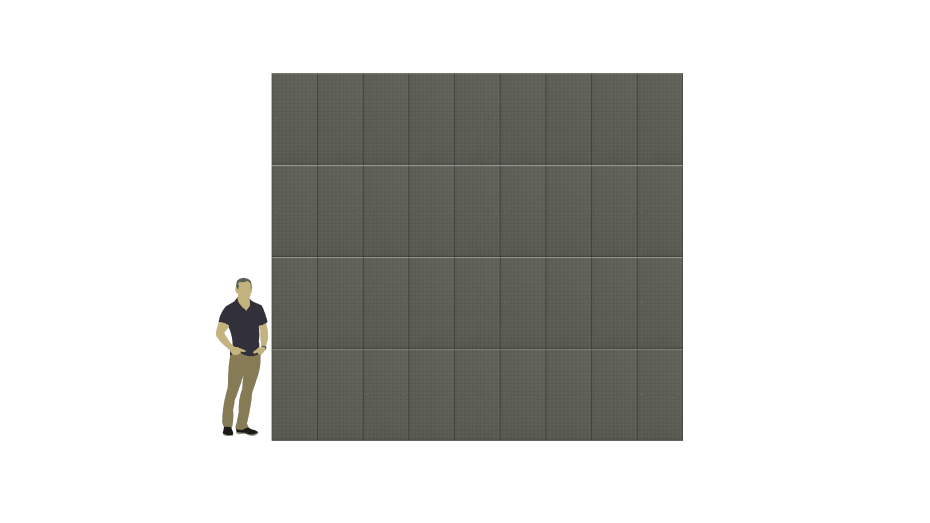 13'' wide by 13' tall LED Screen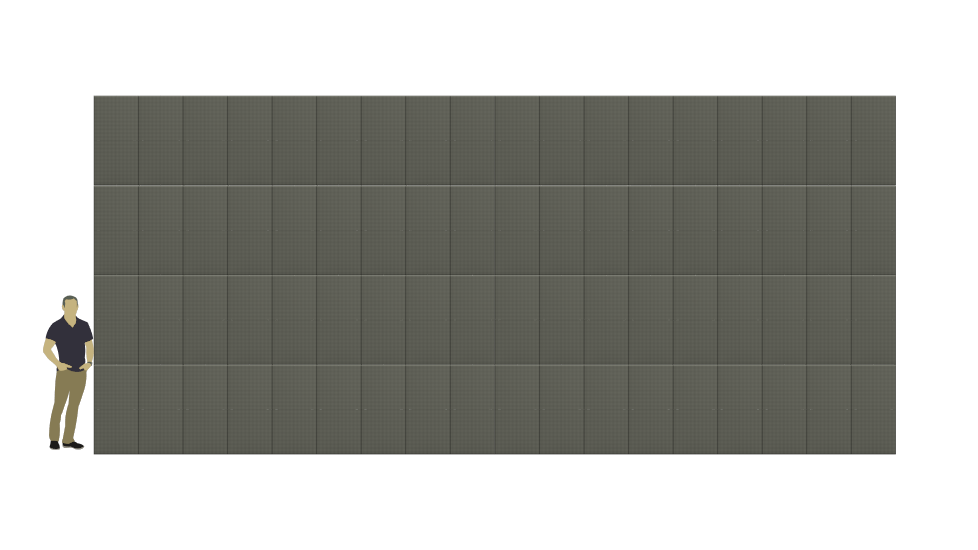 24''' wide by 13' tall LED Screen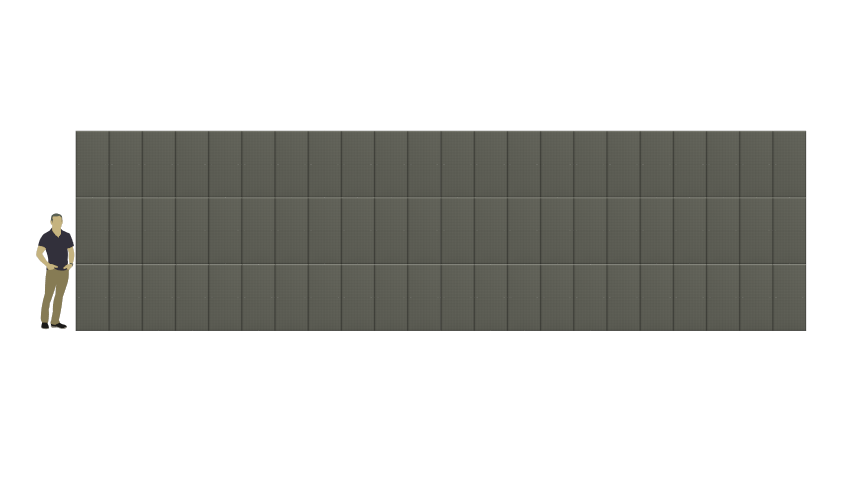 36'' wide by 10' tall LED Screen
Check out some other posts you may be interested in
Able to be seen clearly in direct sunlight, and survive the elements, our IP65 rated outdoor LED panels are exactly what you need for you next outdoor event.
Indoor LED walls have become the standard display technology for indoor video screen applications to entertain, inform and advertise.