Interested in renting or purchasing an LED Video Wall?
Outdoor video walls have a larger pixel pitch and a lower resolution compared to their indoor counterparts as there is usually an increased viewing distance.   As technology improves, resolution gets better and more useful every day.  The standard of outdoor walls have meant that whilst they might have had a pixel pitch of 10 to 16 millimetres, whereas today new applications drive demand for pixel pitches as low as 3 millimetres.  The number of pixels we can put on one video wall canvas continues to grow. 
Typically used in arenas, highway banners and public festivals, they are designed to give many times more brightness to compensate for uninviting darkness, sunlight and increased distance between the viewer and the wall. Additionally, they are designed to be highly leak-proof, waterproof (typically IP65 or even IP67 in some instances), dust-proof, resistant to high temperatures and extreme weather conditions such as high winds and thunderstorms (lightning-proofed).  As wind is such a major factor for outdoor walls, the structures being used to support them need to be properly engineered.  This will also provide a level of wear-proof masking.  Truss structures, Array Towers, scaffolding structures and pre-existing rigging points are all viable options when securely put into place. 
LED solutions often provide swappable components for fast serviceability.  These capabilities not only reduce time and complexity, but also end users to easily adapt to various configurations, as their needs change.  For instance, gesture control using LIDAR-based sensors are being more heavily relied upon due to the effects of the pandemic.  Customers are also seeking solutions that are easy to sanitize.   Sony's Crystal LED for instance has a smooth and resilient surface that can be easily cleaned, unlike other surface-mount LED solution. Additionally, the adoption of HDR and 4K resolution as a standard are continuing to gain traction. 
When renting or purchasing a video wall, it's important to consider the brightness level with regard to your intended use.  As mentioned before, outdoor video walls are typically a lot brighter than indoor ones, in part due to compensate for sunlight.  Video walls are being chosen over projectors for this clarity under sunlight, which projectors lack.  Similarly video walls do not require line-of-sight between the screen and the projector to be unobstructed.  Conversely, if the screen is too bright at night-time for when the lights are turned off, viewers can strain their eyes.  Below are a few guidelines for determining nit (the unit of measurement for LED brightness) requirements:
Outoor brightness: 2,000 – 3,000 nits
Outdoor Brightness Under Direct Sunlight: LED Panels may be required to output as much as 5,000 nits
It is worth remembering that the higher the brightness, the higher the power requirements.  Different walls have different power requirements.  For instance, a 4-millimeter outdoor panel requires a single 20-amp breaker for every five panels.  So, for a video wall that is six panels wide by five panels high, you would need six 20-amp breakers as a power requirement.
Applications using outdoor video walls are approaching the fine-pitch quality of indoor variants as heat dissipation and environmental factor technology improves.  The usage of outdoor-rated video walls will be further extended with higher brightness and resolution.  To compensate for the increased distances and realignment of spaces, larger format displays are used, with more of them doing heavy lifting beyond just showing spreadsheets. 
Mounting and Installation Solutions
Configuration of a screen is not the only thing to consider.  Mounting and installation is also important.  Without proper installation, a video wall cannot function properly. 
A variety of video wall-mounting and installation solutions designed to suit a variety of different applications include:
Push-lock mounting: If you want to install your video wall in recess, push-lock mounting provides the optimal solution, with multiple configuration options and access to the rear of the screen.
Fixed mounting: Using durable, high quality ceiling and wall brackets, along with floor stands, it's possible to mount the video wall in a permanent location
Suspended mounting: For a more attractive installation, it's possible to suspend your video wall from a secure ceiling.
Modular mounting: Portable and easy to install, modular mounting is the ideal solution for temporary video walls.
As with indoor video walls, there is a variety of different outdoor applications.
Concerts and Music Festivals
Whether a concert night or a festival as huge as Coachella, LED Screens can be used to grab the attention of the audience, or to make sure that attendees are still able to view on-stage action.  Whilst like Natalie Cole using archival video imagery to do a "duet" with Nat King Cole, video walls have become an integral part of many acts, smaller, local and regional festivals are finding video walls affordable due to a surge in mass-production by manufacturers.
The large video makes events to be more memorable affairs by adding to the atmosphere and ambience.  Aside from one centre stage-based concert LED screen, having flown screens installed in strategic areas of the venue can cater to the audience which are seated far from the stage and provide them with better visibility.  When screens, it is important to consider the right light since the screen already emits bright lights, along with where the placement of advertising materials such as LED signs and digital signal are. 
Music festivals take place outdoors, so once a display is in place, the biggest concern with its operation is weather.  With video displays hung at extreme edges of stage, where they are most vulnerable they can be susceptible to wind, so to ensure they do not flap, sway or present of danger, certified rigging teams can make sure that they are secure. 
Drive-in Events and Cinemas
Do to social distancing measure, drive-in events have seen a resurgence in popularity.  LED walls have been considered perfect for these events. A 15'x8' LED screen trailer can be bright enough to be seen 250 ft away and by up to 170 cars at once.  Whether at night or under bright sunlight, the LED screens can be used in ways that projectors can't. 
In 2018, just prior to cinema fest, the first LED cinema screen in the US was unveiled  at Pacific Theatres Winnetka In Chatsworth, Los Angeles.  Audiences were able to get a look at the cutting edge of film exhibition.  At 33.8 feet wide and 17.7 feet high with nearly nine million pixels, the screen supports both 2K or 4K resolution, 3-D and high dynamic range imagery.  The screen technology is modular, enabling a variety of sizes and configurations and meets studio consortium Digital Cinema Initiatives' technical specification for cinema use. 
Those who have seen demonstrations are impressed by the wide dynamic range – blacker blacks and whiter whites.  With a range of around 6 to 8 cents per pixel however, a cinema-size screen could be in the range of five hundred to seven hundred thousand dollars.  Whilst this is considerably more expensive than laser projectors which run from $150,000-300,000, the energy efficiency benefits and reliability of LED may make it more than worthwhile.
In the pre-pandemic era, food festivals were seeing as many people attend as small music festivals.  It's no surprise then that LED screens are being seen at them as well.  The organizers of Grillstock festival in Bristol, England utilized a 6.4m x 3.4m screen at the back of the mainstage to show bands like The Fratellis and The Stranglers perform to the 14,000 guests.    The screen was flown for a motorized truss system and was rigged quickly which allowed other preparations for the stage to go unhindered. 
In the post-pandemic period, beer and food festivals are set to return, complete with food trucks and restaurants to sample from.  It seems an obvious way to build on the prestige and entertainment value for the hosts to bring in mobile LED screens to get guests more involved and heighten their enjoyment, whilst keeping sponsors happy by giving them very valuable time in front of the crowd
Cultural festivals all over the world, from China's Peony Culture Festival to the Teenage Cancer Trust concerts in London's Royal Albert Hall have been taking advantage of the power of video walls.  The Peony Culture festival in Luoyang saw a staggering 730 sqm OOH LED screen with a pixel density of 6760 x 420 nestled above the Huo-Yang Plaza Hotel.  Despite its size, the screen was so energy efficient that its power consumption on average was 63 KW/H.  Beside the high brightness, it offered advantageous contrast and IP ratings and solid reliability making it perfect for a variety of complicated environments. 
One of the most fascinating uses of video walls in recent time was In New York City on 17th March .  2021.  Forced by the pandemic to curtail the often raucous St Patrick's Day partying, the traditional parades were greatly diminished in size.  Much of the festivities were carried out virtually and LED video walls were seen as a sensible way to make the housebound revellers feel part of the action. 
In 2016, Manchester, England utilized eight LED video walls to celebrate athletes returning from the 2016 Olympic Games, enabling the huge crowds to enjoy the spectacular parade as it meandered through the streets.
Political rallies are also known to use video screens at outdoor events to get the crowd hyped and make them feel that they are part of the movement.  Voters and technology can be brought together, exquisite images being used to reach out to the hearts and minds of the electorate.
Electronic music and all of its genres have always been associated with certain aesthetics.  The often futuristic sound often calls for bright lights, lasers and "trippy" visualizations.  As one would come to expect with this music, DJs are now utilizing screens to enhance the experience of dancers.  By placing an LED wall screen behind the performer and also an LED wall screen in front of the DJ table, the artist appears to be perfectly placed three dimensionally in between the same visual images.  That's not the only use for the screens.  Picture in Picture (PIP) media server input/output is usually used to view two sports matches but a DJ booth can align the foreground and background images so that the signal flow image illustrates the area of the video input that the DJ façade outputs.  Alternatively, another use of staggered LED walls is to create walk-on paths at the side stage or centre stage.  The front screen looks like one large screen that allows for dramatic walk -n experience as the presenter emerges from the visuals.  Intelligent stage design will accentuate the screens by fusing the stage with the screen content.  Essentially, the presenter becomes part of the presentation, drawing the crowd to the power visuals of the screen.
Lighting strongly compliments the LED wall.  By coordinating lighting and visual cues, screens have the power to not only embed the artist in a live music video experience but to bring the colour and lighting of the stage to the event attendees.  This thereby extends the experience so that the audience is engulfed in the performance, making them feel part of the action on stage and creating a much more intimate feel.
Advertising, Announcements and Signage
Use in advertising and signage is one of the most obvious uses of LED walls and cities like London and New York have been famed for their placement of the giant screens.  With LED, the newer more attractive bezels can finish the look of the edges, eliminating the traditional rough industrial feel that often left mounts, cables and other inner workings exposed.  Additionally, the high resolution and crystal clarity which the screens have evolved to shed the "sleazy" image that neon signs and other old technologies presented. 
The benefits LED walls provide to advertisers are numerous – billboard companies can update  their ad space offerings and can sell the same space to six or seven different buyers simultaneously, rather than presenting the same static ad to a single buyer, thus increasing the revenue potential.  Throughout the day, messages can be shuffled and for smaller scale advertisers, this can give them a chance to let potential customers know of hot new deals.  Digital billboards are low maintenance to vinyl billboards which are easily damageable and need constant upkeep.  Meanwhile their attention-grabbing capabilities are perfect for any event from festivals to fairs due to their bright lights and dynamic display.  Passer-bys are more likely to absorb the message presented.  Finally, the increased return of ROIs due to the essentially zero production costs and the fact they can be controlled remotely make video walls a breath of fresh air.
Just browsing? Have an event coming up? Not sure where to start? Our experienced team of LED Video Wall professionals are eager to hear from you!
Common LED Video Wall Sizes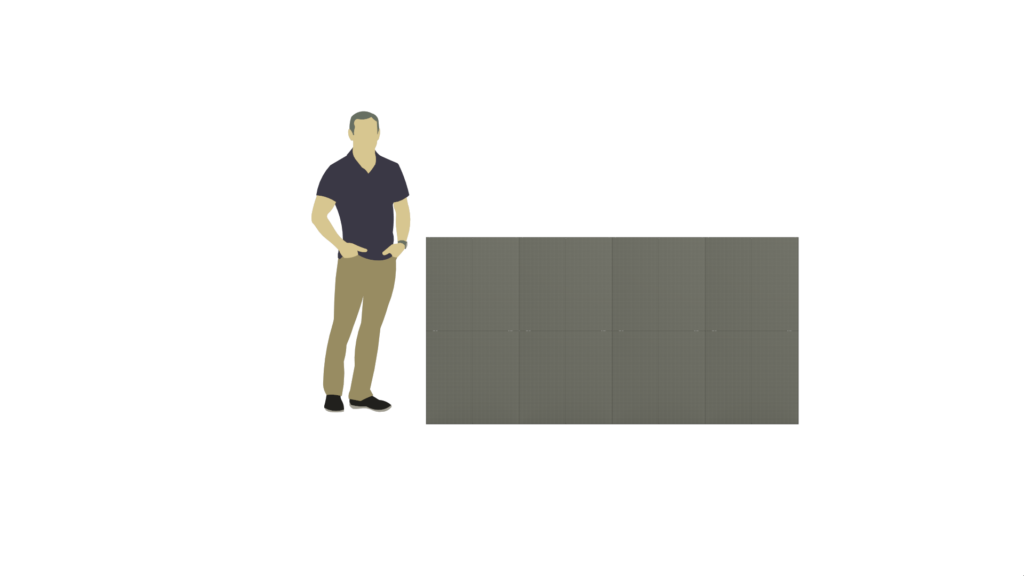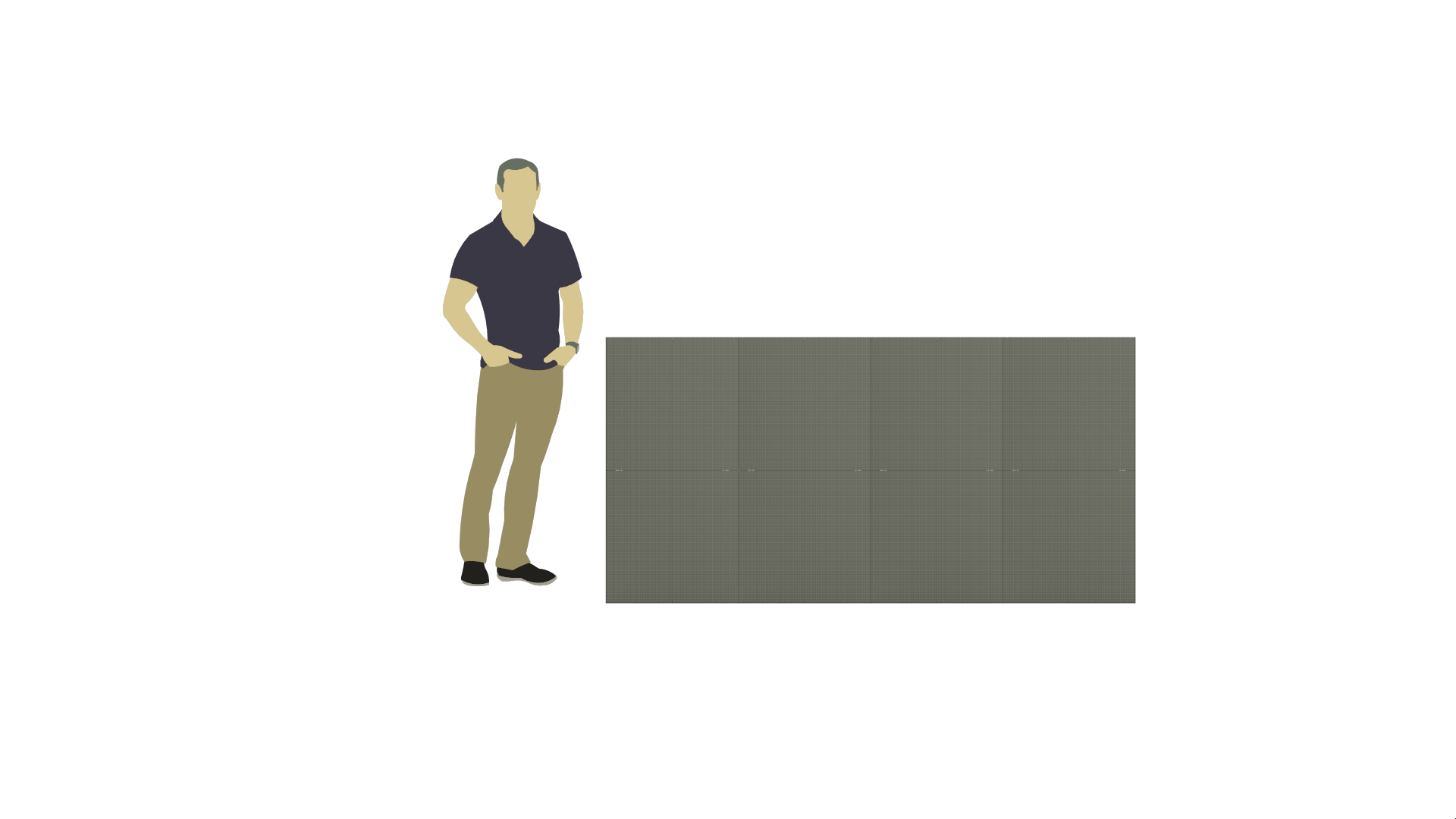 8'wide by 4' tall Video Screen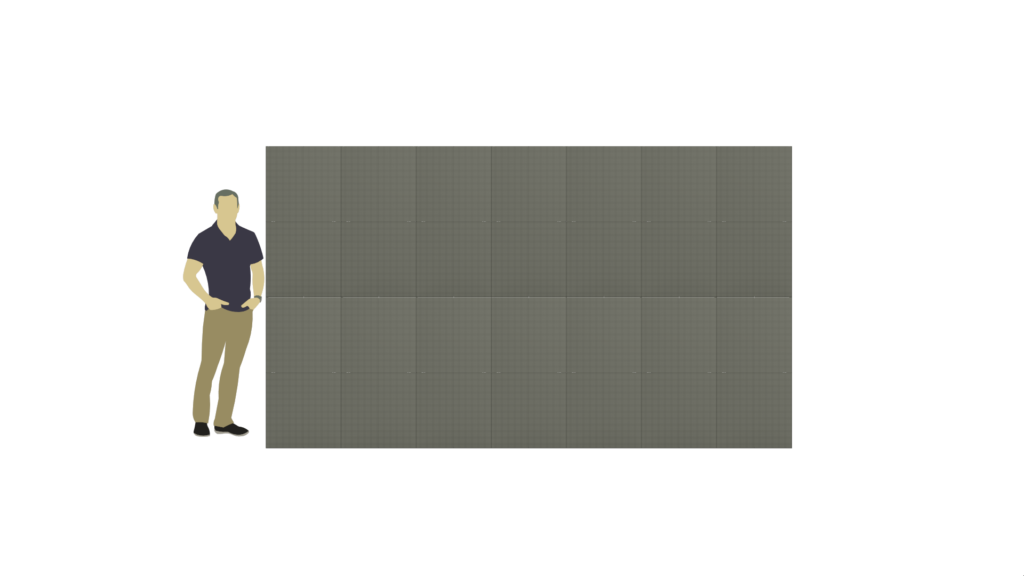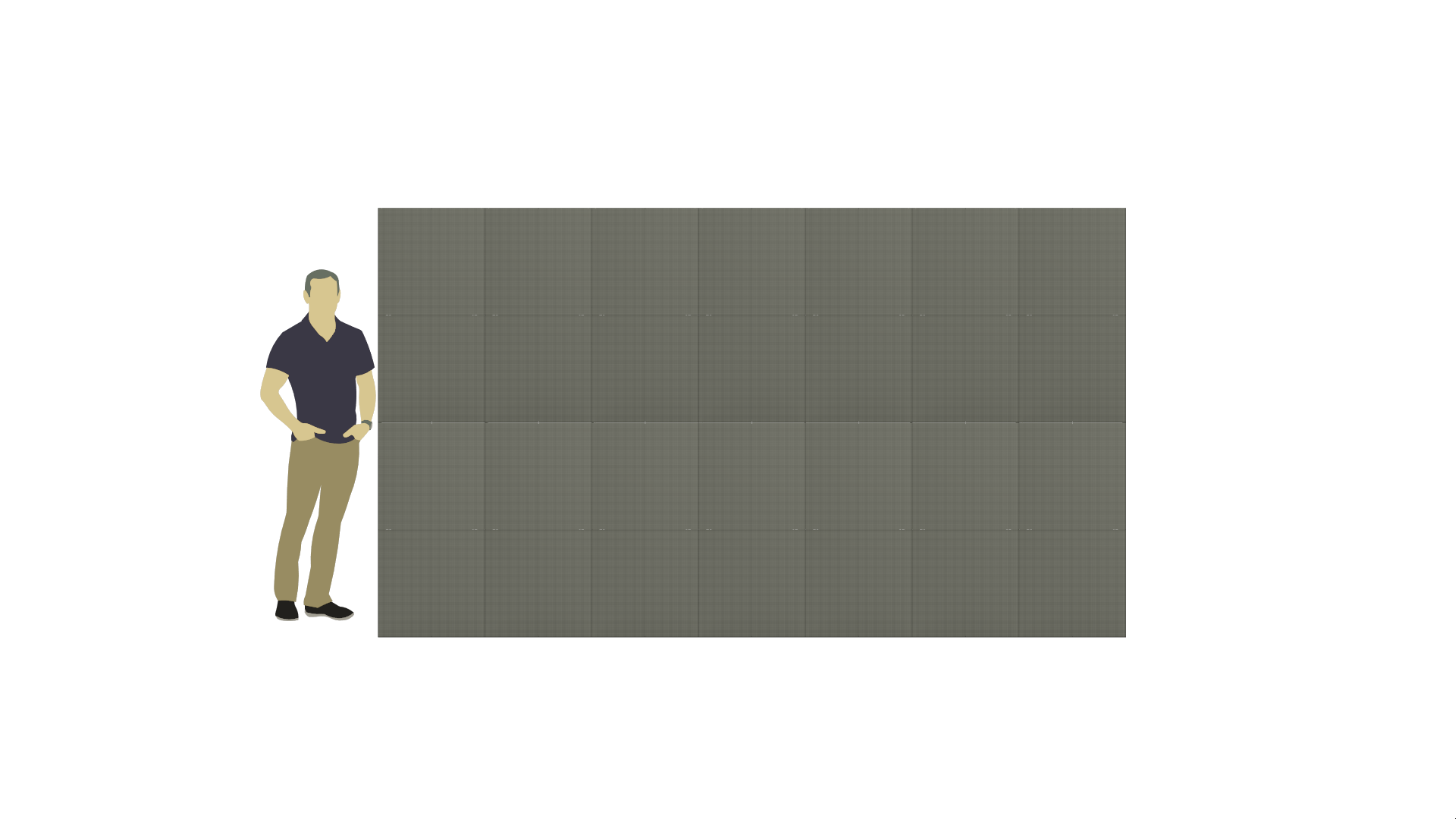 11.5'wide by 6.5' tall LED Screen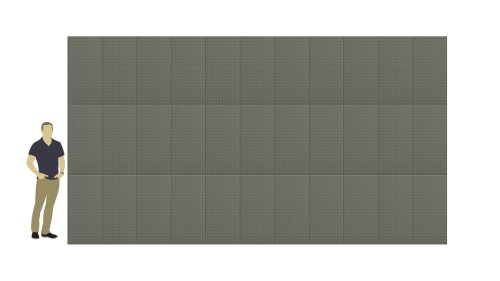 18'' wide by 10' tall LED Screen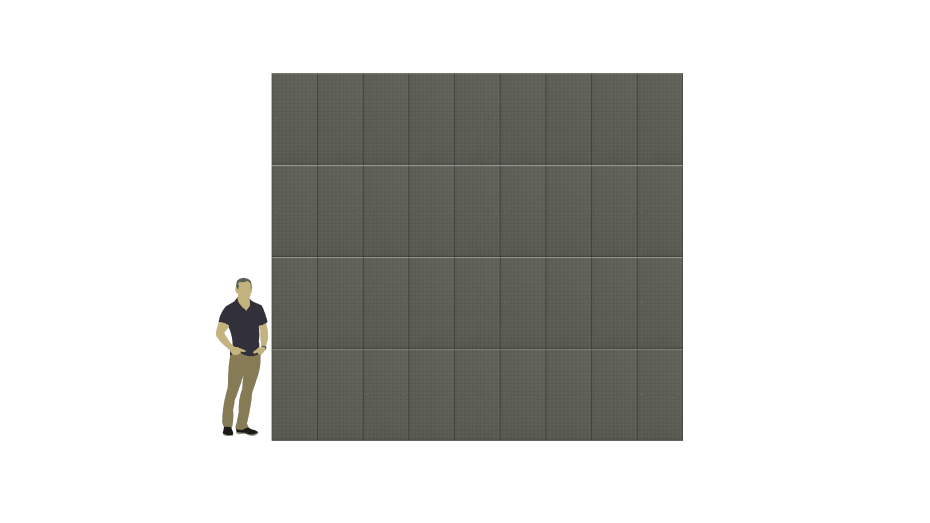 13'' wide by 13' tall LED Screen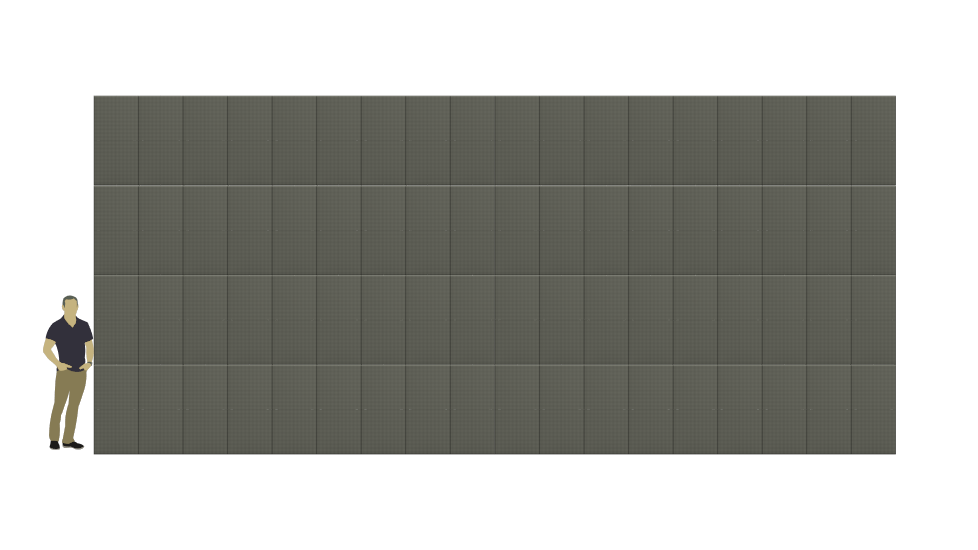 24''' wide by 13' tall LED Screen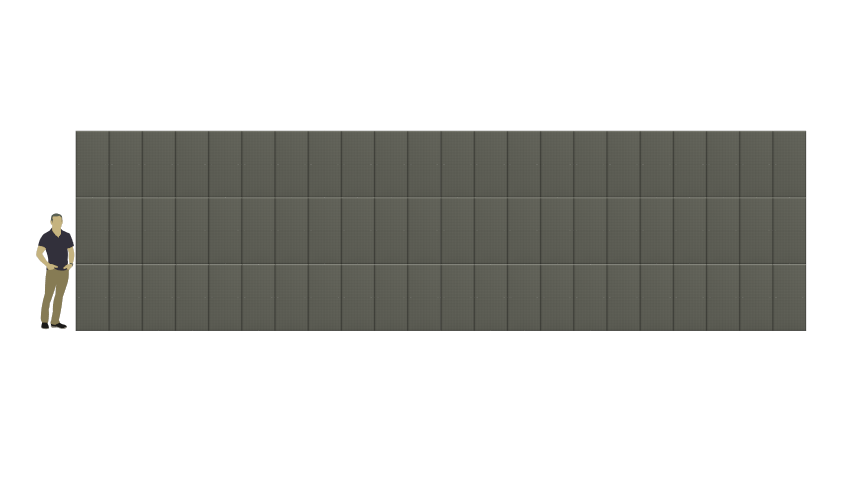 36'' wide by 10' tall LED Screen
Check out some other posts you may be interested in
Able to be seen clearly in direct sunlight, and survive the elements, our IP65 rated outdoor LED panels are exactly what you need for you next outdoor event.
Indoor LED walls have become the standard display technology for indoor video screen applications to entertain, inform and advertise.